BBNaija: 'Don't Touch Me Again' – Angel Warns Cross
BBNaija housemate, Angel has jokingly warned Cross to henceforth keep his hands off her body since he wants them to be just 'friends'.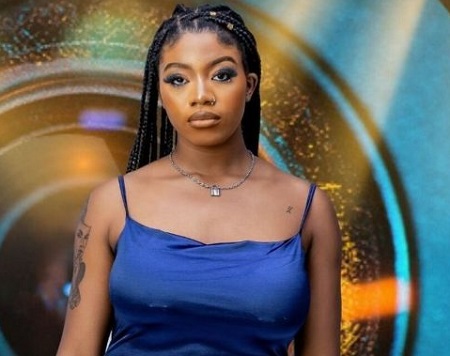 Angel made the remark on Tuesday night during a discussion with Cross.
Cross had wanted them to remain best friends.
"You have so many women in your life, there's Queen, Nini, Saskay, keep your hand to yourself, don't touch me because best friends don't touch each other in that regard, that's not my definition of best friend," she said.
"If that's what you want, then that's fine. I can keep my hands to myself. I've been getting the wrong memo, we've been having a different line of thoughts.
"You know I find you romantic, attractive and best friend is the only way around it for now in this house until we eventually leave here and see how you are outside," Cross responded.
They both agreed to be just friends after sharing a kiss together.
Angel also joined Cross on his bed as they spent the night together.
Liquorose Emerges Head Of House As Emmanuel Wins The Ultimate Veto Power Game
Emmanuel wins the ultimate veto power game. He is now immuned from being eviction this week and has automatically entered the finals.
He nominated Liquorose as head of house and Cross as Deputy.
BBNaija: I Feel Hurt Queen Wanted To Sleep With Cross – Whitemoney
Read Time:
1 Minute, 15 Second
Big Brother Naija housemate, Whitemoney has opened up on how he felt about Queen wanting to sleep with Cross.
He made this known on Sunday night as he lied down with Queen in their Head of House room.
Apparently, Queen had stated that she would want to sleep with Whitemoney and Cross, a statement that hurt Whitemoney, so he confronted her.
Whitemoney said, "If it's just me, fine. But you said you wanted to sleep with me and Cross. You cannot say that, it hurts to the bone.
"So it means that all the things that you're doing; the love and the attention, the caring, the everything, was just for sex? Is it that hard to get someone to sleep with you?
"In the outside world, I can sleep with anybody I want. I can even pay for it.
"But all this stress is for that? To think that I was already thinking about you in a certain different type of way. But I said I should be patient and see how it goes."
Queen, however, apologised for her statement saying, "I'm sorry. I'm really sorry. I didn't mean to hurt your feelings. After saying that, I just realised that I'm not supposed to say that."
Whitemoney then said that he doesn't trust her after what she said.
This is not the first time Whitemoney confronted Queen because of Cross. During the last Jacuzzi party, Whitemoney warned her against her 'extra kissing'.
BBNaija: "Angel Has a Stone Heart, Any Man That Catches Feelings For Her is Finished" – Pere
BBNaija housemate, Pere Egbi has revealed something interesting about fellow housemate, Angel.
According to him, Angel has a heart of stone and will not be able to settle with a man in a relationship.
Pere made this known during a conversation with Cross while reacting to the sudden change of attitude towards Cross.
The ex-military man affirmed that the 21-year-old writer is only in the house for the cruise, nothing more.
"It's as if Angel carried 'harden your heart', instead of 'shine your eyes' to come to this show.
"She has a stone heart and any man that catches feelings for her is finished.
"Angel is just all about the cruise and I don't think that she's ready to get into anything serious. I think as a man, I have a softer heart compared to hers," he said.