Five female officers of the Nigeria Immigration Service who went viral after they participated in a viral video challenge in their uniforms have been punitively redeployed to Northern State, Saharareporters' reports.
The female officers had recorded themselves participating in the "Bop Daddy" challenge.
Five Female Employees Of @NigImmigration Who Participated In @falzthebahdguy's 'Don't Rush' Challenge Punished With Redeployment To Borno, Yobe, Others | Sahara Reporters
The ladies had recorded themselves transforming from their uniforms to a…READ MORE: https://bit.ly/2Z1aqWu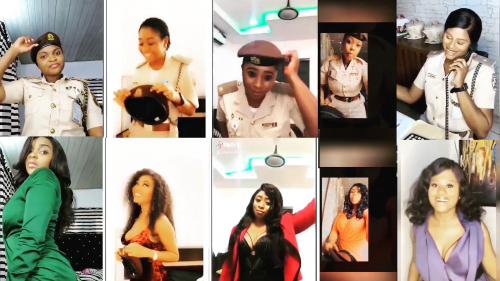 Photo Credit : SaharaReporters
Early in April, the agency, in a disciplinary memo asked the women to explain why the should not be subjected to punishment for allegedly violating the agency's internal code.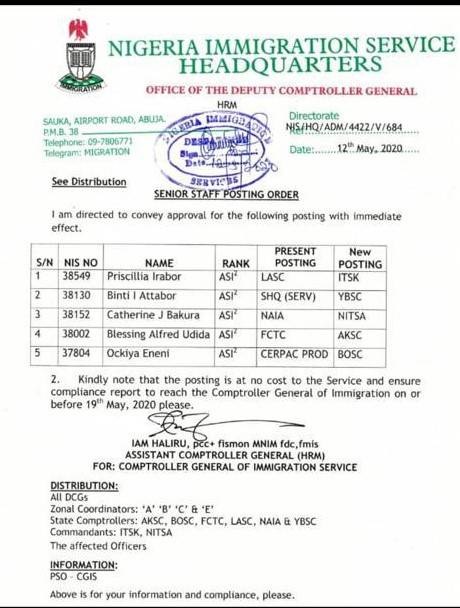 In a new memo, the service transferred Irabor from the Lagos to Kano, Attabor was posted from Abuja to Yobe, Udida from Abuja to the Akwa Ibom, Bakura from Abuja to Rivers, while Eneni was moved from the Combined Expatriate Residence Permit and Aliens Card production facility to the Borno State.
The NIS also stated that the relocation will be at the expense of the affected female officers involved and must be done within seven days notwithstanding the current interstate lockdown and closure of airports due to the outbreak of Coronavirus.