"I Don't Only Share Love With My Wife, We Are Also Business Partners" – Cubana Chief Priest
He says it will be difficult for a couple to break up when they also know the risk of losing money is involved.
Celebrity barman, Cubana Chief Priest has gushed over his wife, stating that they are inseparable because asides being married, they are also business partners.
He says it will be difficult for a couple to break up when they also know the risk of losing money is involved.
Chief Priest made this known while he shared a photo of his wife rocking a pink hair.
He Wrote;
"The Other Day @_deangels Left Her Kitchen For My Bar, She Is My Life Partner In Love N In Business, Nothing Can Ever Separate Us Because We Don't Just Share Love❤️ We Share Money💰 Too. Cement Your Love❤️ With Money💰 It Makes It Unshakable."
Liquorose Emerges Head Of House As Emmanuel Wins The Ultimate Veto Power Game
Emmanuel wins the ultimate veto power game. He is now immuned from being eviction this week and has automatically entered the finals.
He nominated Liquorose as head of house and Cross as Deputy.
Olakunle Churchill & Wife, Rosy Meurer Show Off Their Son's Face (Pictures)
Olakunle Churchill and wife, Rosy Meurer unveils their son's face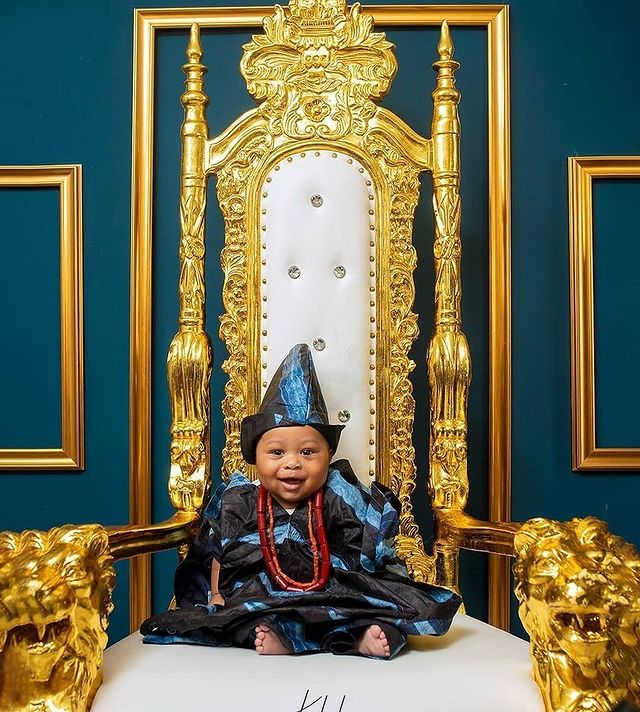 Shared With Caption …
Our September cover @mediaroomhub_ is all about the Churchills living in their own world.
It is no longer news that Rosaline Meurer @rosymeurer, an actress and entrepreneur, is married to Olakunle Churchill @ olakunlechurchill a philanthropist and a businessman.
Recently, they welcomed their first child together, King Churchill Omoniyi Oladunni-Churchill @therealkingchurchill. .
It was the first time the Churchills would introduce their baby to the public, and the excitement was evident on their faces.
After the news of their marriage threw social media into a frenzy a while ago, the Churchills chose to stay focused on building their home and ignoring any form of distraction.
In this interview with Azuka Ogujiuba, Rosaline spoke about her journey to motherhood, her friendship with her husband, and their family plans.
Click on the link in our bio for the full story and head to our YouTube channel to watch the interview.
'I Keep My Heels, Head & Standards High'- Regina Daniels
Nollywood actress and entrepreneur, Regina Daniels took to social media to disclose how she keeps a high standard.
The proud mother of one indicated that she keeps her heels, head, and standards high.
Taking to her Instagram to share beautiful new photos of herself rocking jumpsuit, she wrote;
"I keep my heels, head, and standards high." The best of me is yet to come."