Moment Lady Was Saved From Committing Suicide On A Bridge (Video)
viral video captures the moment a young lady was saved from committing suicide on a pedestrian bridge in Kropotkin, Russia.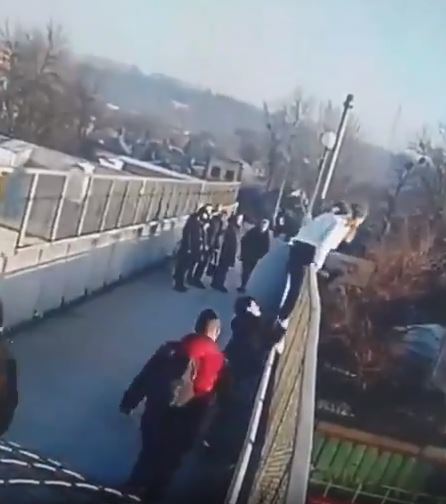 In the video, the lady could be seen clinging to the handrail while waiting for the passersby to walk past her. As soon as the group walked by, she made to start climbing the bridge and swung her right leg over the top of the barrier.
Fortunately, one of the men looked back and swiftly rushed to grab her other leg. The others also joined in to rescue her and pull her to safety.
After pulling her from the bridge, she emotionally collapsed into their arms and she was taken away by the heroic group.
Watch the video below,
In other news, a 15-year-old South African girl, Lufuno Mavhungu Tshirenzheni, allegedly committed suicide after she was bullied by her classmates in the school premises.
According to the Limpopo provincial police, the young girl from the Thulamela Municipality, Limpopo, allegedly committed suicide by overdosing on pills on Monday, April 12th.
Videos that surfaced online, following the incident, showed the moment the grade 10 student from Mbilwi Secondary School in the Vhembe East education district, was confronted by two other girls, said to be her classmates.
In the video, one of them signals the other to move while she got closer to the victim to slap her countless times. The victim grabs the pupil who was assaulting her in an attempt to block the blows.
Other students can be heard in the background cheering the alleged perpetrator, who is also in grade 10.
Limpopo Education spokesperson, Tidimalo Chuene confirmed the incident on Tuesday, April 13th.